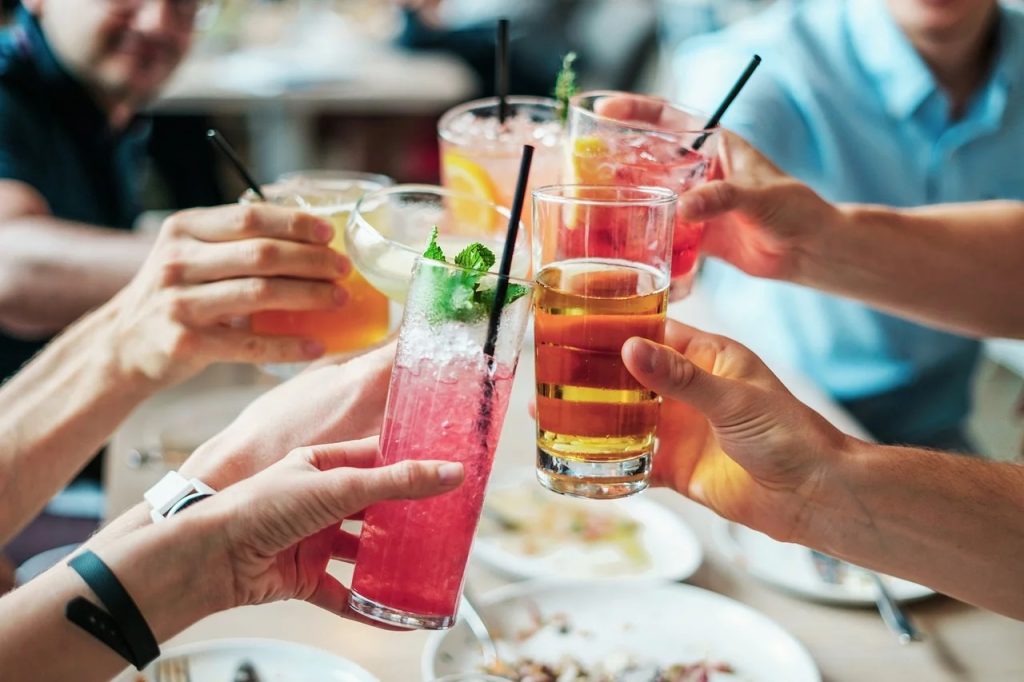 Hi everyone! It's the holiday season, which means many of you are hosting parties. Spruce up your gatherings with these cocktails below and prepare to wow your colleagues*. Also check out parts 1 and 2 of this series, "Nonprofit Cocktail Recipes" and "9 Nonprofit-Inspired Cocktail Recipes for Your Holiday Party." Share your own recipes in the comment section, or on Twitter using #NonprofitThemedCocktails. (*Please consult with your doctor and/or a mixologist before implementing these recipes below).
1. The Founder Syndrome
2 oz absinthe
1 oz chilled grapefruit juice
4 oz cold water
1 sugar cube
Splash of Peychaud's (or Angostura's or whatever bitters you have lying around)
Set absinthe spoon (or a fork) over a cocktail glass. Place the sugar cube on top of spoon or fork. Pour absinthe onto the sugar cube and into the glass. Set the sugar cube on fire. Wait 10 seconds or until flame goes out. Slowly drip cold water onto the sugar cube until it is dissolved. Add the rest of the water, along with grapefruit juice and splash of Peychaud's. Was once on fire; can be great in small doses at the right time, but otherwise overwhelming and bitter.
2. The Salary History
1/4 cup dried butterfly pea flowers
2 cups water
1 oz vodka
1 oz elderflower liqueur
1 oz gingerbeer
1 oz lime or lemon juice
1 oz simple syrup
Boil the water and dried butterfly pea flowers for five minutes. Strain the blue liquid into an ice tray. Freeze. When frozen, add ice cubes to a blender and blend until ice is crushed. Add some blue crushed ice to a cocktail glass. Combine vodka, gingerbeer, elderflower liqueur, lime or lemon juice, and simple syrup in a shaker with some regular ice and shake. Strain mixture over the blue ice. Do not stir. As the ice melts, the drink will start to change color, turning beautiful shades of blue and purple. There should be enough blue ice to make a few drinks. When anyone asks what's in the drink or how it changes color, say "That's none of your damn business!"
3. The Bylaws
3 oz kombucha, berry-flavored is best
1 oz tequila
1 oz vodka
½ oz lime juice
½ oz simple syrup
½ oz Dubonnet
1 small sprig of mint
3 dried goji berries
Shake kombucha, tequila, vodka, lime juice, and simple syrup with ice. Strain into a glass. Garnish with mint and goji berries. Confusing combination of stuff—no one knows what "Dubonnet" is—but has probiotics and is good for you and good to have around. Maybe.  
4. Community Engagement Punch
3 oz light rum
3 oz dark rum
3 oz tequila
3 oz vodka
3 oz gin
3 oz triple sec
12 oz pomegranate juice
12 oz sparkling lemonade
Ice
Mix everything together in a fancy crystal punch bowl. Leave in the fridge to chill. Completely forget about it throughout the entire party. When all the guests have left, throw it out.
5. The Nonprofit Budget
1 cup white grape juice
2 drops green food coloring
1 cup coconut milk
1/4 cup sugar
1 cup tart cherry juice
3 tablespoon agar-agar powder, divided into 3 (if using agar flakes, double)
2.25 cup vodka, divided into 3 portions of ¾ cups each
OK, this is rather complex and time-consuming to do right, so you may have to experiment. First, place 1 tablespoon of agar-agar powder and grape juice in a small pot and boil until the agar is dissolved. Place in fridge and wait about 10 minutes. Stir in one portion of vodka and green food coloring. Pour into a large baking sheet and leave in fridge. Repeat this with the coconut milk, but don't add food coloring; add the sugar when boiling. When at room temperature, pour on top of the congealed grape juice layer. Repeat with the tart cherry juice, and pour on top of the congealed coconut layer. Leave in fridge. When firm, cut into one-half-inch cubes. You should have cubes of red, white, and green. How festive! Give people one tiny cube each.
6. The Cashflow Issue
8 oz cold, caffeinate coffee
1.5 oz Fireball whisky
Pinch of smoked ghost pepper powder
Pour coffee into a large glass. Pour Fireball into a separate shot glass. Sprinkle ghost pepper powder on top of Fireball. Drop the shot the into the coffee and try to down the whole thing in one gulp while not tearing up. It burns and will keep you up at night.
7. The Operations Professional
2 oz vodka
1 oz peach schnapps
1 oz white cranberry juice
1 oz clear ginger beer
½ oz dry vermouth
½ oz lime juice
Ice
Put everything into a shaker. Do not shake. Wait 30 seconds, then drain into a nondescript mug. Seems easy but is complex. Invisible but gets the job done.
8. The Foundation Board of Trustees
3 oz white rum
¼ cup of fresh white peach or nectarine
1 oz coconut cream
½ oz lime juice
½ oz agave syrup
Ice
Blend everything together until smooth, pour into a chilled glass. A rich and unreasonably powerful drink in a beautiful shade of white.
—
Be a monthly patron of NAF and keep educational posts like this coming.
Donate to Vu's organization
Write an anonymous review of a foundation on GrantAdvisor.org