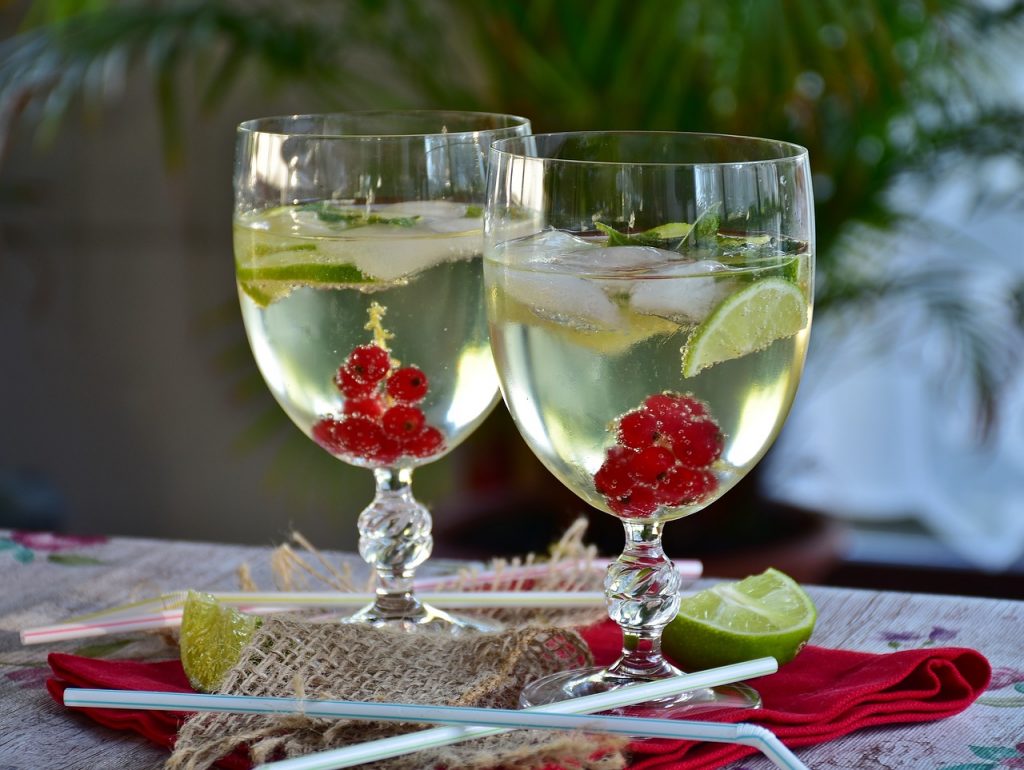 Hi everyone, this will be the last post of the year. I thought about writing a recap of 2017, maybe a list of profound lessons we learned as a sector or something. But that takes way too much thinking and analysis, which I can't really do after three glasses of Gewürztraminer, the nonprofit of the wine family (sweet, underappreciated, with a hint of bitterness).
So instead, we're going to talk about cocktails. It's been a while since we've had a follow up to Nonprofit Cocktail recipes. However, since all of us are likely hosting holiday parties, it is a good time to brush up on our mixology. If you're sick of the boring old eggnog, try these nonprofit-inspired recipes below at your next gathering, and wow your friends and family. Please drink and serve responsibly.
The Board of Directors
2 oz. vodka
1 oz. hazelnut liqueur
1 oz. Malibu
2 oz. coconut milk
Nutmeg
Crushed pistachios
Mix everything together in shaker with ice, pour into glass. Garnish with a pinch of nutmeg and sprinkling of pistachios. Inexplicably strong and slightly nutty.
The Grant Proposal
1 oz. vodka
½ oz whiskey
½ oz. peach liqueur
¼ oz. apple liqueur
¼ oz. simple syrup
¼ oz. lime juice
1 3-inch stalk lemongrass
1 strawberry
6 ½ mint leaves
3 mesquite wood chips
Put wood chips into a teapot, add whiskey and lemongrass stalk, and use a long lighter to set wood chips on fire. Meanwhile, muddle mint and strawberry in a shaker. Add the other ingredients, shake, and empty out into a small glass with ice; try not to overflow. Garnish with the stalk of lemongrass. Smokey and complex.
The Salary DOE
1 ¼ oz. rum
1 oz. whiskey
½ teaspoon powdered activated charcoal
1 oz. grapefruit juice
½ oz. lime juice
Edible glitter (yes, that exists)
Dissolve activated charcoal powder in whiskey in shaker. Add the other ingredients and some ice. Shake and strain into a glass. Garnish with edible glitter and a twist of grapefruit. Pitch black opaque and may cause health problems.
Equity Juice
2 oz. vodka
1 oz. elderflower liqueur
2 oz. coconut water
½ oz. simple syrup
½ oz. lime juice
1 teaspoon blue curacao
Combine everything in a shaker with ice, shake and pour into martini glass. Garnish with a large piece of edible gold leaf. Refreshing but packs a powerful punch. Hydrates as it inebriates so you don't get a hangover
The Logic Model
1 oz. rum
1 oz. tequila
1 oz. whiskey
1 oz gin
1 oz. coke
Pour each ingredient into its own shot glass (input). Line up the shots and take them one at a time from left to right (output). You are now the life of the party (outcome).
The Nonprofitini
5 oz. leftover event wine (red or white)
1 oz. vodka (or whatever clear liquor you have in your desk for emergencies)
2 oz. lemon or lime soda
Pour into a glass or mug filled with ice, stir with a swag pen. Garnish with a piece of cantaloupe or pineapple or cauliflower or whatever is left on the fruit or veggie platter. Simple yet elegant.
The CRM
1 oz. vodka
1 oz. vodka
1 oz. vodka
1 oz. vodka
1 oz. vodka
Combine all ingredients in a chipped mug that's at least five years old. Drink up.
Overhead Sangria
8 oz. vodka
1 bottle of white wine or rose
12 oz can of Sprite
5 oz. elderflower liqueur
1 lemon, 1 lime, 1 grapefruit
Combine vodka, Sprite, elderflower liqueur in a punch bowl. Slice citrus fruit and add to bowl. Chill for at least 3 hours, add Sprite. To serve, place bowl on table. Do not provide cups or serving utensils.
The Bloody Annual Report
2 oz. vodka
4 oz. tomato juice
½ teaspoon grated horseradish
3 dashes Worcestershire sauce
3 dashes Frank's hot sauce
½ oz. lemon juice
Freshly-ground black pepper
Lemon or lime wedge
Celery salt or sea salt
Pickled asparagus, olives, celery sticks, jalapeno slices, pickled beets, marinated artichokes, pepperoncini slices, pearl onions, pickle spears.
Combine first 7 ingredients in shaker with some ice. Rub rim of glass with lemon or lime wedge, dip into celery salt. Pour cocktail into glass. Add garnish; use bamboo skewers to skewer together small items like olives and pearl onions. Serve with a copy of your annual report. This is the only way anyone is going to read it.
Related post: Check out "Nonprofit Cocktail Recipes" for The Strategic Plan, The Retreat, the Development Director, and other awesome concoctions.
—
Support the maintenance of this website by buying NWB (Now NAF) t-shirts and mugs and other stuff.
Make Mondays suck a little less. Get a notice each Monday morning when a new post arrives. Subscribe to NAF by scrolling to the top right of this page (maybe scroll down a little) and enter in your email address (If you're on the phone, it may be at the bottom). Also, join the NAF Facebook community for daily hilarity.
Also, join Nonprofit Happy Hour, a peer support group on Facebook, and if you are an ED/CEO, join ED Happy Hour. These are great forums for when you have a problem and want to get advice from colleagues, or you just want to share pictures of unicorns. Check them out.
Donate, or give a grant, to Vu's organization, Rainier Valley Corps, which has the mission of bringing more leaders of color into the nonprofit sector and getting diverse communities to work together to address systemic issues.