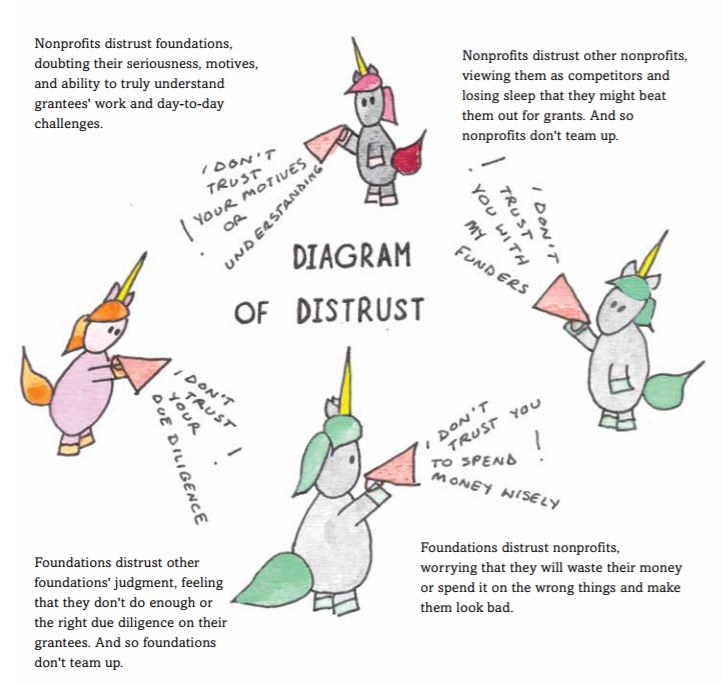 Hi everyone. About a year ago, I mentioned I was co-authoring a book with two brilliant colleagues, Jessamyn Shams-Lau of the

Peery Foundation

and Jane Leu of

Smarter Good

. Many of you backed our Kickstarter project, and guess what? We actually wrote the book! OK, Jessamyn and Jane wrote the book, while I tagged along and tried to offer helpful suggestions like "instead of writing this book, how about we take the money and invest it in this awesome tech start-up I just heard about called Juicero, then get rich and start our own foundation but have headquarters in Oaxaca?"
Anyway, the book is called "Unicorns Unite: How Nonprofits and Foundations Can Build Epic Partnerships" and will be available this Spring, with pre-orders being taken on April 9th, 2018, which is coincidentally World Unicorn Day. Now, you may have some questions, so I've anticipated and answered them here:
What is the book about? The relationship between foundations and nonprofits, and how we can all work together more effectively. It examines the philosophies and practices that prevent us from authentically partnering to unleash our full potential, and it provides practical tips for how we can all do better. And there are cute and colorful drawings of unicorns.
What inspired y'all to write it? Jessamyn, Jane, and I have been in this sector for years, and while we love our work, let's face it, the relationships between nonprofits and foundations, as well as the entrenched power dynamics, often prevent good work from happening and also drive many people to leave the sector and open a stall at the farmer's market selling naturally fermented sauerkraut or something. We dream of a world where funders and nonprofits see each other as trusted and equal partners, not as freeloaders and overlords. Imagine what we can accomplish together when funders are not suspicious of nonprofits, and nonprofits are not stealing pens and dry-erase markers when visiting foundations. (What, like I'm the only one).
Why should I buy this book? We started off writing a really academic book, filled with things called "citations," but then decided we wanted to write something more fun, because gosh darn it, you have plenty of white papers and other academic stuff to read already. Jessamyn, being an artist, pitched the idea of greatly reducing the text and having more drawings. The book is breezy and easy to digest, but don't let that fool you. There are a lot of truth bombs that will make you go "OMG! That cute unicorn drawing didn't just say that!" And there are lots of practical tips and exercises you can implement right away, whether you are with a foundation or a nonprofit.
Is it just going to be a whole lot of complaining about funders? No, we try to make it balanced, pointing out areas where both funders and nonprofits can improve. Foundations need to be more trusting; nonprofits need to be more transparent; everyone needs to floss and exercise more. However, we do acknowledge power dynamics and how it affects things.
Can I get an excerpt from the book?  Sure:
"Power determines when and where we meet, how we talk or don't talk with one another, and how much we share or don't. Power determines who has to adhere to character counts and who can write at any length they choose. Power determines who is accessible and responsive and not. Power determines who gives and receives advice and feedback. Power determines who is paid for their expertise, who must give it for below market salaries, and who must give it for free. Power determines who has the final decision and who doesn't."
I know, right? Whoa!
What's with you and unicorns? Unicorns are magical AF, and so are all of us in this sector. Think about it: We're doing some of the most complex and hardest work, with the most limited resources, while getting the least appreciation from society. (Seriously, where are the shows about nonprofit work?! Do we need more shows about baking?!) Despite these challenges, we all work day-in, day-out to make our world better. We are unicorns; tired, rapidly-greying, majestic unicorns with crows' feet.
Did you make up World Unicorn Day? No, of course not! Here are some details. National Unicorn Day, or International Unicorn Day, is as real as you and me. People across the globe celebrate by giving one another unicorn-themed baked goods, and foundations give away unrestricted, multiyear grants.
Are there social media for the book? Yes, absolutely. Facebook page: Unicorns Unite. Twitter: @UnicrnsUnite. Instagram: unicrnsunite. Subscribe to get the latest news. And we might have contests to give away t-shirts or radishes or something.
I heard you might be working on videos featuring unicorn sock puppets? All the cool people are making unicorn sock puppets and putting on a show to illustrate nonprofits-funders relationships these days.  
Will the book use the Oxford Comma? What? Of course it will! I'm offended you would even ask this! #OxfordCommaForever
How do you have time to write this ridiculous FAQ? Don't you have a full-time job? Whatever. You sound like my staff and board members. 
I think that answers every question you could think of. But if there are others, please feel free to ask in the comment section. Thank you to everyone who backed this project, and see you in the Spring when our book comes out. 
—
Make Mondays suck a little less. Get a notice each Monday morning when a new post arrives. Subscribe to NAF by scrolling to the top right of this page (maybe scroll down a little) and enter in your email address (If you're on the phone, it may be at the bottom). Also, join the NAF Facebook community for daily hilarity.
Support the maintenance of this website by buying NWB (Now NAF) t-shirts and mugs and other stuff.
Donate, or give a grant, to Vu's organization, Rainier Valley Corps, which has the mission of bringing more leaders of color into the nonprofit sector and getting diverse communities to work together to address systemic issues.