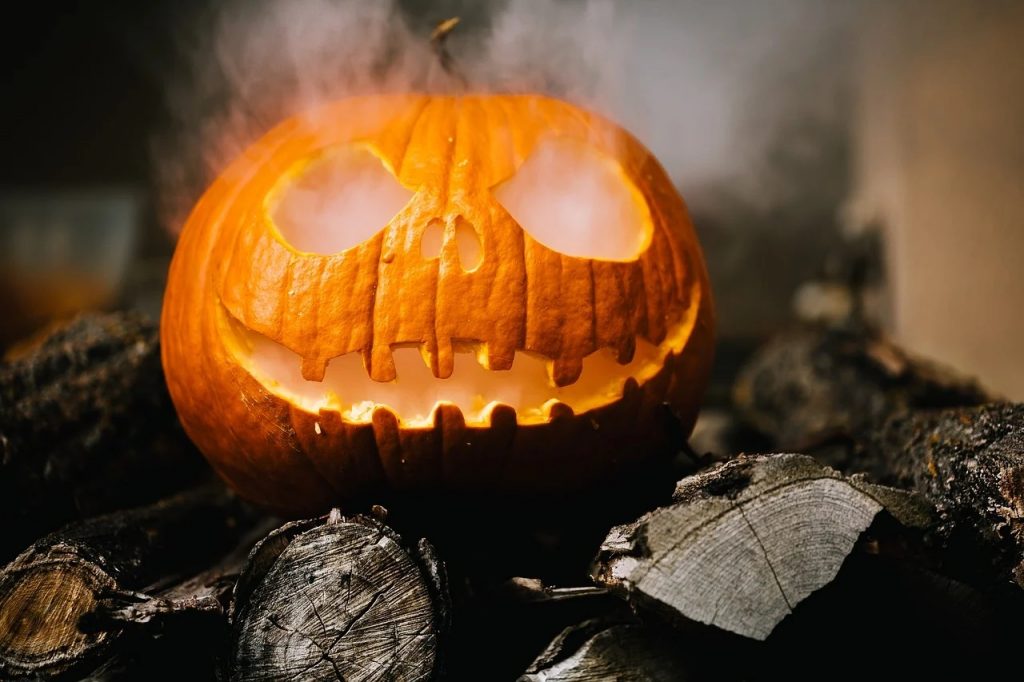 Hi everyone, before we get to today's less-serious post, please have your organization sign this letter urging Congress to enact legislation requiring foundations and Donor-Advised Funds to increase the amount of they are giving out to nonprofits, from a minimum of 5% of their endowments to 10%. This would free up $200 billion USD over the next three years, money that is desperately needed as our communities face this pandemic.
Halloween is this coming Saturday, which means it is time for Scary Nonprofit Stories. Here are several terrifying stories set in our sector. Make sure you are not reading them at night. If you are in the mood to share your own stories, use #NonprofitScaryStories on Twitter. And of course, if you're looking for nonprofit-themed costumes for that virtual party, check out #NonprofitHalloweenCostumes.
Neutral
As the elections approached, everyone was on-edge. Except Thomas. He rolled his eyes each time colleagues brought up the protests. The matters of the courts did not trouble him. His job managing a nonprofit was stressful enough; he did not need further anxiety from everyone blabbing on and on about voting. One day, during the pre-meeting check-in on a zoom call, Thomas snapped. "This is a workshop on strategic planning," he said, "why must everything be about politics?"
The other faces stared back at him. "Neutrality is the luxury of the privileged," a woman whispered, her eyes like shards of glass piercing his soul. "I'm not privileged," he said. "You are," she said, "and as you remain neutral in life, then life will become neutral to you." He logged off, feeling a sudden chill sweep through his home office.
The days came and went. Thomas dismissed the woman's words. As others turned the tides in the fight against injustice, Thomas remained neutral. He did not notice that gradually all his clothing turned beige, he could no longer distinguish textures and flavors in his food, and his favorite movie became Love Actually.
Calendar
It was an ominous fall morning. In the distance, thunder grumbled. Gnarled tree branches clawed desperately at Mallory's windows. She woke up, looked at her phone, and issued a silent scream of anguish and despair. She had 11 zoom meetings scheduled that day. The end.
Warm Vanilla Sugar
The room felt unreasonably warm, and the smell of vanilla sugar wafted from a candle. Across from Alisa, the four pale ghostly faces of the interview panel stared back at her. They were masked, sitting six feet apart. She was applying for an equity- and community-engagement position. She had hoped that her skills, fluency in three languages, and lived experience would be recognized as significant assets to this organization. As the minutes passed, the panel's icy demeanor thawed. Alisa gained confidence. Her answers were sharp and concise. They all smiled, she could tell even with their masks on.
The next day, they invited her for a second-round interview. They asked for a presentation on community-engagement strategies that she would employ. That night, under a watchful Autumn moon, she stayed up preparing her presentation. The next day, she delivered it to acclaim from the panel. Alisa felt that she had done everything she could. Once she secured the job, she would give feedback that asking candidates to do organization-specific assignments without compensation was inequitable.
Three days later, as the trees shook off the remainders of their curled, brittle leaves, the hiring manager called her. She did not get the job. Instead, they invited her to join the board. From somewhere, Alisa could smell the faint aroma of warm vanilla sugar mixed with tokenism.
Touch-Up
It was his third Zoom meeting of the day, and Jeff was exhausted. He looked like he hadn't slept for several days, and truth was, he hadn't. He had bags under his eyes and so many blemishes; luckily, the wrinkles distracted from both. By the seventh meeting, he remembered that Zoom had a "touch-up my appearance" function that made one looked better and less raggedy. He clicked to turn it on and discovered…it had been on the whole time…
Payout
Every year, foundations are required by law to give out only 5% of their endowments. And they can count the money they spend on THEIR OWN OPERATIONS! Sometimes, people say, if you stand very still in front of certain foundations' office buildings, you can feel the hairs on the back of your neck stand up and your blood runs cold. That's when you know the most unspeakable thing is happening: The foundation is transferring parts of its endowments to Donor-Advised Funds (DAFs), which have no legal minimum payout requirement, and counting this transfer TOWARD THAT 5%!
MYGOD
A foundation board chair plopped the Ouija board down on the foundation's conference table. "I got it at one of our grantee's silent auctions," he said. The four staff looked at one another; so this was the emergency meeting he had called them in for. He was the patriarch of the family, and everyone was used to indulging Raymond's sense of humor, which tended to be harmless, though occasionally time-wasting. But it was Halloween, and they might as well have some fun.
A program officer turned off the light. A colleague turned on her phone's flashlight and lay the phone on the table. They placed their fingers on the planchette. "Hey, is there a spirit in the room?" Raymond asked. A first, nothing happened. Someone cleared their throat. Then, the planchette started moving. "H-E-Y," it spelled. Everyone leaned back in surprise.
"Spirit," Raymond whispered, "what's the best way to fund our grantees so they are most innovative and effective and we get the best bang for our bucks?"
The planchette moved again. "M-Y-G-O-D" it spelled out.
"I don't understand," Raymond said, "what does that mean?"
"M-U-L-T-I-Y-E-A-R-G-E-N-E-R-A-L-O-P-E-R-A-T-I-N-G-D-O-L-L-A-R-S," the Ouija board spelled.
Everyone looked at one another, their eyes lit up by the phone's light.
"Ha ha," said Raymond, "good one, y'all. Clearly you're moving this thing."
"N-O-P-E." Raymond's hand was the only one on the planchette that time.
"Wow," he said, "this thing is clearly broken! Sorry I wasted your time. See you next board meeting when we approve the yearly grants. Again, the family doesn't want to see any proposals that would pay for staff salaries."
As he left, the planchette moved on its own.
"A-H-O-L-E" it spelled.
—
Related: 7 nonprofit scary stories to tell in the dark, More nonprofit scary stories to tell in the dark,
—
Donate to the Democratic Senatorial Campaign Committee. And please vote!