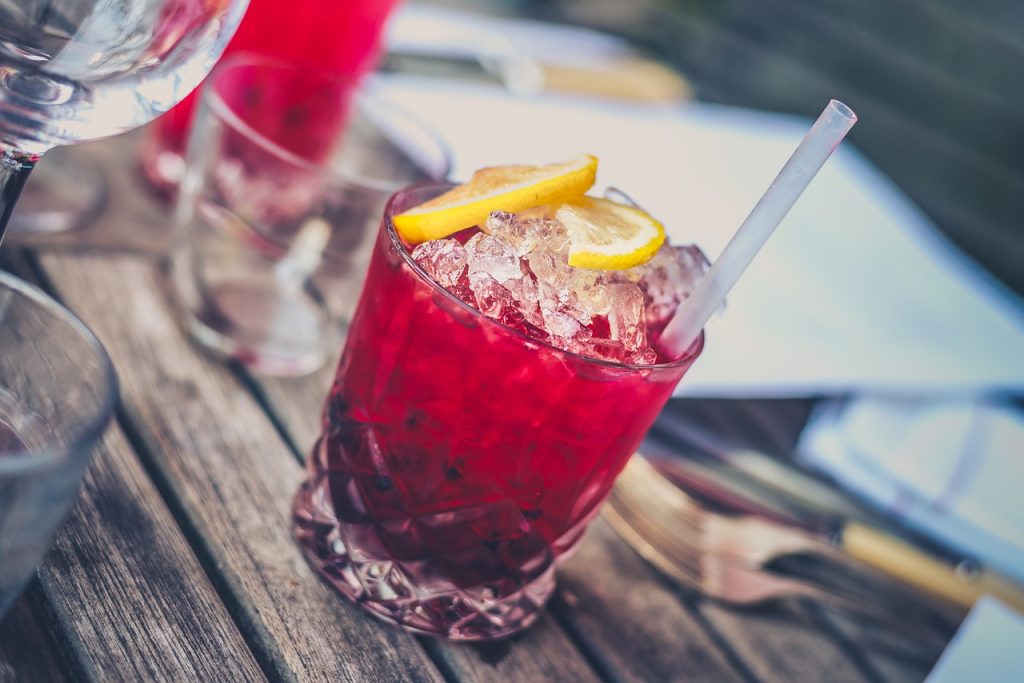 Hi everyone, I'll be taking my annual two weeks break from writing so this will be the last post of 2020. I'll be back on January 4th. As this is the last post of this year, I thought about doing something meaningful, like "Important Lessons We Learned During These Unprecedented Times" or something, but I have no mental energy to do that. Or to shower more than once a week, but that's a different matter.
The previous years, I wrote cocktail recipes. I got requests for non-alcoholic ones. So here are some mocktail recipes for you to make and enjoy during your next virtual holiday party. Thanks for all you do, everyone. I will see you in 2021, which will be an amazing year filled with hope, joy, and better personal hygiene for all of us.
The Annual Appeal
8 oz green, black, or other leafy tea, hot
2 tbs maple syrup or honey
1 tbs lemon juice
1 cinnamon stick
1 whole clove pod
1 star anise
Lemon slice
In a mug, combine hot tea, maple syrup or honey, lemon juice, clove pod, star anise, and stir with a cinnamon stick. This alcohol-free version of a hot toddy is warm and extremely syrupy.
The Virtual Dance Party Ice Breaker:
1/2 red bell pepper, roughly chopped
4 oz carrot juice
4 oz tomato juice
1 oz lemon juice
1 garlic clove
1/4 tsp celery salt
1 drop liquid smoke
2 spritzes of hot sauce
black pepper
Blend everything in a blender. Pour into shaker, shake with ice. Pour into tall glass. Garnish with lemon slice. Zesty, energizing, and maybe good for you, but it's definitely not for everyone.
The Foundation Minimum Payout Rate:
3 cups pineapple juice
1.5 cups ginger ale
1 cup lime juice
1 cup honeydew melon cubes
Cucumber and lime slices
Blend pineapple, lime juice, ginger ale, and honeydew melon. Pour into a glass container. Garnish with cucumber and lime slices. Place container into the freezer until frozen solid. To serve, microwave container for five seconds and pour the melted liquid into a shot glass. Sip. Repeat.
The Zoom Meeting
3 oz coconut milk
1 oz coffee syrup
1 oz chocolate syrup
Ice
Shaved chocolate
Blend coconut milk, coffee syrup, and chocolate syrup with some ice till smooth. Pour into cup, garnish with shaved chocolate. Keeps you energized and on your toes. Don't drink more than six a day.
The Solidarity Statement
2 oz passionfruit juice
2 oz pineapple juice
4 oz coconut cream
1 scoop vanilla ice cream
Seasonal berries
Edible flowers
Blend first four ingredients together, pour into glass, garnish with seasonal berries and edible flowers. A delicate mostly-white drink that is pretty to look at.
The Audit
1 cup organic watercress
½ cup organic frozen mango cubes
½ organic avocado
½ organic granny smith apple
¼ cup chopped organic parsley
1 thumb-sized piece of organic ginger
Juice of one organic lime or lemon
½ to 1 cup of organic coconut water
Ice
Blend everything, pour into glasses. Garnish with a sprig of watercress and a sprinkle of chopped parsley. Drink very slowly while praying it stays down. Good for your health but very expensive and the aftertaste may linger for a while.
The Badly-Done Performance Review
½ cup dried hibiscus flowers
1 cup water
1 cup sugar
½ cup lime juice
1 cup ginger ale
1 red bird's eye chili
Angostura bitters
Combine sugar and water in a pot and bring to a boil. Turn off heat, stir in the hibiscus, let steep 30 minutes, and remove flowers. In a punch bowl, muddle Thai chili, add ginger ale, lime juice, hibiscus solution, and ice. Pour into individual glasses, add three or four dashes of bitters, garnish by floating a bird's eye chili pepper on top. Spicy, bitter, sour, and may not go down so easily.
The Donor-Advised Fund
1 kiwi, peeled
1/2 cup sparkling lemonade
3 mint leaves
1 piece edible gold leaf
Blend kiwi, lemonade, and mint. Pour into a tall glass. Place gold leaf on top. Put into back corner of the freezer and leave it there forever. Deduct ingredients from your total amount taxed.
—
Donate now to elect Reverend Raphael Warnock and Jon Ossoff in the Senate run-off races in Georgia. Whoever controls the Senate will affect every single issue all of us are working on in this sector.